Celebrating 10 Years of the Achievement & Assessment Institute
By Alicia Marksberry
How We Got Here 
2023 is an important year for the Achievement & Assessment Institute, marking ten years of our status as a designated research institute. In the ten years since, our nationally renowned staff has grown to a team of over 500 employees spread across 35 states and our yearly revenue has reached over $60 million, making us the largest of KU's 12 designated research institutes.
AAI was established in 2012 through the merger of the Center for Educational Testing and Evaluation and the Institute for Educational Research and Public Services. Both organizations set the Institute's foundation to successfully build partnerships and programs that support the achievement of children, adults, and publicly funded agencies. The year after the merger, AAI was recognized by KU's Office of Research and Graduate Studies as a designated university institute, which was the true inception of AAI and what it has become.
Under the leadership of Director Neal Kingston, AAI has grown at a compound annual growth rate of 10% since its inception and offers a broad and diverse range of services in a variety of disciplines, all with the same goal of improving the lives of children and adults. This is accomplished through academics, research, direct-impact programming, developing healthy environments, community engagement, and more.
"I have always been interested in work that combines service and research. AAI demonstrates such an approach is feasible and beneficial at a large research university," Kingston said. "We value diversity as much as we do because it is at that interaction between diverse points of view, diverse populations, and diverse interests where lots of interesting and useful things can grow."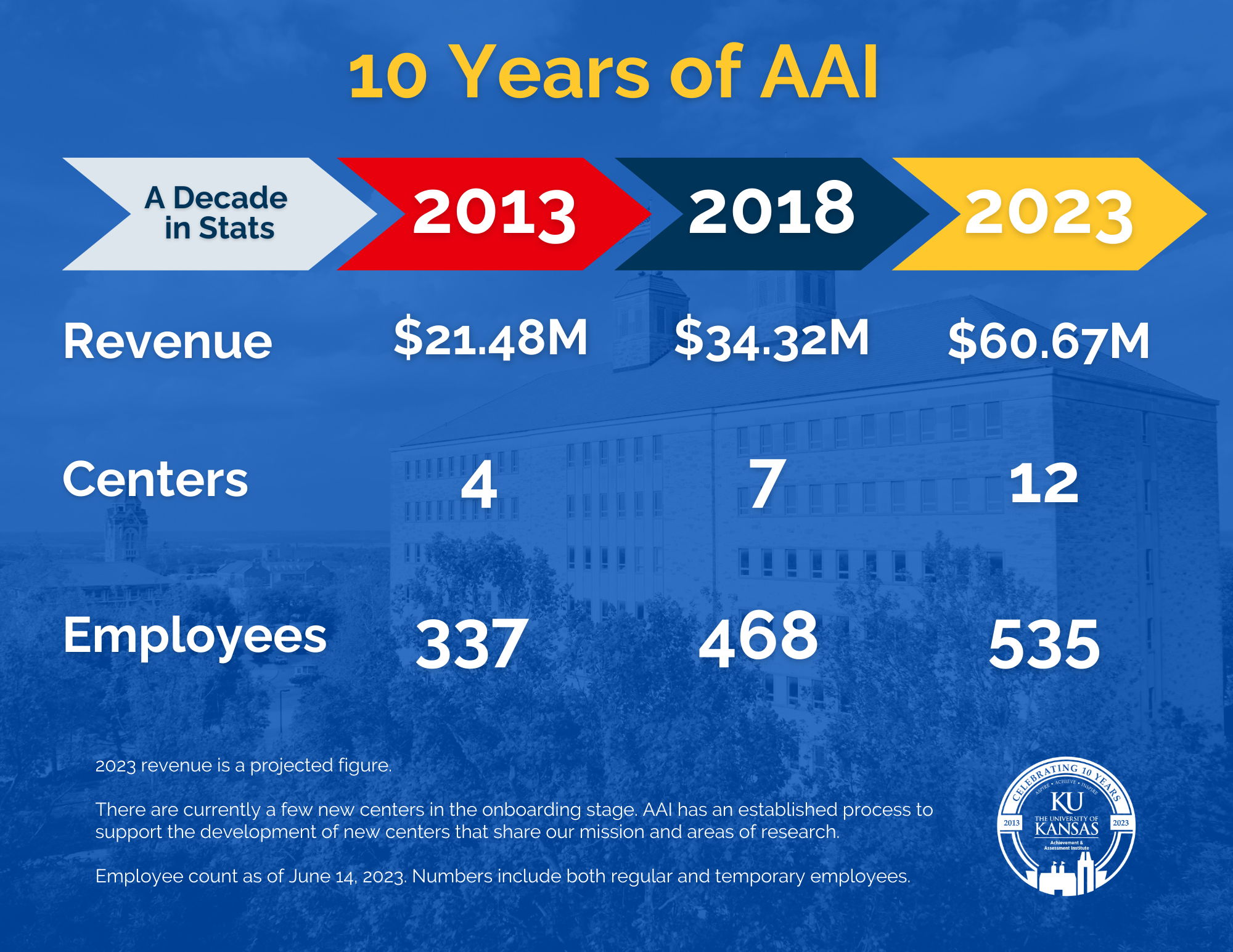 Remarks from the AAI 10 Year Anniversary Luncheon
We were honored to have Simon Atkinson, Vice Chancellor for Research, and Douglas A. Girod, University of Kansas Chancellor, deliver remarks at our 10 Year Anniversary Luncheon. Included in this video are remarks from Neal Kingston, AAI Director and University Distinguished Professor.
AAI and its centers have been and will continue to be essential partners in building an exceptional learning community at KU. Over the past 10 years, the work done at AAI has consistently embodied the three mission-based priorities of Jayhawks Rising: Student success, Healthy and Vibrant Communities, and Research and Discovery. I am excited to see AAI continue its mission of improving lives and communities in the years to come."
---
Barbara A. Bichelmeyer
KU Provost and Executive Vice Chancellor
History and Impact of AAI
In this video, the history and impact of the Achievement & Assessment Institute is discussed, featuring former partners (many who later joined AAI), university leadership, and even Randy Watson, Commissioner of Education for the State of Kansas.
Our Centers and Their Work
Our centers are organized into two categories; Strategic Centers, which are expected to have strategic plans ensuring their long-term viability, and Tactical Centers, which are contingent upon faculty research agendas and funding. In addition to these two categories, AAI has a number of affiliated faculty at the University of Kansas and other institutions. 
Our 12 centers do much of their work through collaborations and partnerships. For example, the AAI Central Office provides third-party program evaluation to KU researchers for grant applications and awards, drawing on our considerable range of experience, expertise, and knowledge base. Our Center for Educational Opportunities Programs (CEOP) provides assistance to students through TRIO programs and other programs designed to support students on their path to success. One of our newer centers, Center for Certification & Competency-Based Education (C3Be), creates curriculum and teaching maps as an organizational structure for KU centers, researchers, and professors.
Many AAI centers have services that benefit each other, making collaboration ideal for several projects outside of KU as well. For example, AAI's Center for Public Partnerships & Research (CPPR), Accessible Teaching, Learning, & Assessment Systems (ATLAS), and the Center for Certification & Competency-Based Education (C3Be) collaborated on the Institute for the Advancement of Family Support Professionals. The Institute is part of a CPPR grant project and includes partners such as the Iowa Department of Health and Human Services, Virginia Department of Health, and James Madison University's Health Education Design Group.
ATLAS has also partnered with the National Center on Deaf-Blindness (NCDB) since 2019 to learn more about students who are deafblind with significant cognitive disabilities. The study on student characteristics was done in part to inform a second phase of work on improving how learning maps can support meaningful access to the general curriculum for this unique population. The centers produced an extensive technical report, Students with Significant Cognitive Disabilities and Dual Sensory Loss, that was published in 2021 and draws on expansive ATLAS and NCDB data to address that topic.
These are just a few examples of recent awards and projects our centers are currently working on. Undergirding much of our centers' work is Assessment & Technology Solutions (ATS), which works closely with our other centers to provide technological components on projects in addition to servicing outside initiatives.

Looking Forward to the Next 10 Years
"AAI and its centers have been and will continue to be essential partners in building an exceptional learning community at KU. Over the past 10 years, the work done at AAI has consistently embodied the three mission-based priorities of Jayhawks Rising: Student success, Healthy and Vibrant Communities, and Research and Discovery," said KU Provost and Executive Vice Chancellor Barbara A. Bichelmeyer. "I am excited to see AAI continue its mission of improving lives and communities in the years to come."
AAI and the work done by its centers will be celebrated at events and initiatives throughout 2023 as a way to highlight the vast and diverse work AAI employees do across sectors and across the entire country and the impact that work has had on our constituencies.
"We've demonstrated in 10 years of time that one can make a successful model of a different approach to a research center. And we've done that because of the people we have," Kingston said. "We have a large and phenomenal team, and I am proud of how well we serve our mission and look forward to continuing the great work we do in the next ten years and beyond."
Strategic Center Director Reflections
The work of our centers couldn't be done without strong, expert leadership at their helms. Here we have reflections from the directors of AAI's strategic centers that highlight the broad range of work done at AAI over the last decade.
When I reflect on how ATLAS has grown over the years, I am particularly proud of how thoughtful we have been in our approach and how focused we have remained on innovation. Development of the Dynamic Learning Maps® (DLM®) Alternate Assessment System began in 2010 and broke new ground with an innovative approach to summative alternate assessment. In 2022, ATLAS embarked on a new project that, for the first time, brings instructionally embedded assessment to general education. Pathways for Instructionally Embedded Assessment (PIE) is a $2.5 million grant project in partnership with the Missouri Department of Elementary and Secondary Education. PIE uses research-based cognitive models of learning as the basis for assessments that give educators timely information about their students' academic progress.   
In our sixth year as a center, I am proud of the staff we have assembled and the culture we have built. We have multiple teams working on a wide variety of projects and initiatives, all rooted in our common goal to shift the way teachers think and to create resources to help students become better learners. Each team's contribution to that goal might look different, but we all work together to improve the learning landscape for all students.  
I am excited about the questions we will continue to ask. Those questions lead us to make connections with organizations, people, and projects that reflect our goals and values. The questions lead us to seek innovative answers. With each success and milestone reached, our enthusiasm grows.   
Being part of a university center opens up doors not available to many of our competitors. We have been able to enhance and grow our Kite Suite solution, providing many new features for the outstanding educators we support through both the Kansas Assessment Program and Dynamic Learning Maps.  
We are continuing to grow our team capabilities allowing us to be better postured to provide comprehensive assessment delivery to potential clients. We continue to foster a culture where all employees focus on delivering what the customer wants.
I am excited about the potential to grow the use of Kite in many other states and develop quality content to be used in their assessments. We enjoy working collaboratively with our clients and providing top-notch service to support their mission.  If our clients are happy, we have done our job well.   
Being a center within AAI gave C3Be immediate credibility within the KU research community, the university as a whole, and throughout the US. Additionally, C3Be was able to model some of our initial projects off of successful endeavors within other AAI centers; specifically, our cyber defense teaching map was structured similar to the Dynamic Learning Maps. 
C3Be is only 2.5 years old but we have undertaken many fruitful projects including: 
The cyber defense teaching map
The credit for prior learning alignment project with the KU Edwards campus
The Volunteer Fire Officer Competency-Based program development with the Kansas Fire & Rescue Training Institute
The cybersecurity assessment and talent exchange project with EnterpriseKC
The relational readiness framework and assessment development for the Iowa Department of Public Health. 
One very important initiative we have been involved with is assisting the university in incorporating competency-based education (CBE) models into certain academic programs. As we move into the next 10 years of AAI, I am excited to continue our CBE work.  
I was excited to become part of the AAI team and build a center that focuses on servicing school districts and the broader community. It fits in well with AAI's mission to improve the lives of children and adults. As the center is less than a year old I have already made connections across Kansas and have begun building a foundation to achieve our mission.
I am proud of the fact that AAI has given me the flexibility and encouragement to build a center that meets the needs of Kansas. We will continue to adjust and customize our support as our clients need in order to be successful. I hope that through the work of CEEL, KU and AAI are seen as strategic partners to help school districts and other organizations achieve success. The sky is the limit.
Being part of AAI means I have the freedom to pursue a variety of different funding sources and grant opportunities. I have really enjoyed being able to work with district partners across the state of Kansas to provide data and research insights to increase educational access as students pursue their educational journey.  
I am most proud of the relationships and connections I've built with other college-access practitioners and partners across the country and globally.  I'm excited to be able to continue to elevate CEOP's presence within the field of college-access by sharing our work through strategic dissemination. 
AAI offers a community of researchers and changemakers who share a passion for making a difference in the world. It's inspiring to learn from the amazing work across all of AAI's centers. As a small center, we find resources and expertise within AAI crucial in allowing us to develop compelling grant proposals and effective projects. 
I'm loving the Entrepreneurial Pathways SenseMaker project which allows us to collaborate with teams from CPPR, the Center for Creativity and Entrepreneurial Education, and the School of Business to understand the early educational experiences of successful young adult entrepreneurs. 
I'm excited about expanding our scope beyond Montessori education to explore a wider range of pedagogies and initiatives that foster learner agency, as well as how we can make these types of practices accessible to more students, especially those from historically marginalized communities. 
When I look back on the last 10 years, I'm really proud of what CPPR staff have created together and the collective purpose that we continue to rally around. We're an organization with high hopes, and we act on those hopes to create areas of impact for communities so they can see their wants and needs actively supported on a systems level. I'm proudest about the people and the way we blend all of our strengths to meet the moments as they present themselves. 
We have over 45 projects, each in a different stage—some things are coming to an end, some things are just getting started—and it's that constant iteration and looping forward as we build together that has been my favorite part of our work. Whether it's directly tied to our innovations of DAISEY, IRIS, Our Tomorrows, Sunflower Summer, Kansas Future Fellows or our work in the Kansas Early Childhood Data Trust and the Kansas Child Care Capacity Accelerator, our focus on communities is driven by our belief that things can and should be better.  
I'm excited by the ways we've embraced substantial and significant changes while continuing to grow. Using flexibility and durability in a period of great uncertainty, we made necessary pivots to embrace new ways into our work. Along with our partner communities, organizations, and agencies, I'm excited for CPPR to continue to innovate and prepare for multiple future scenarios.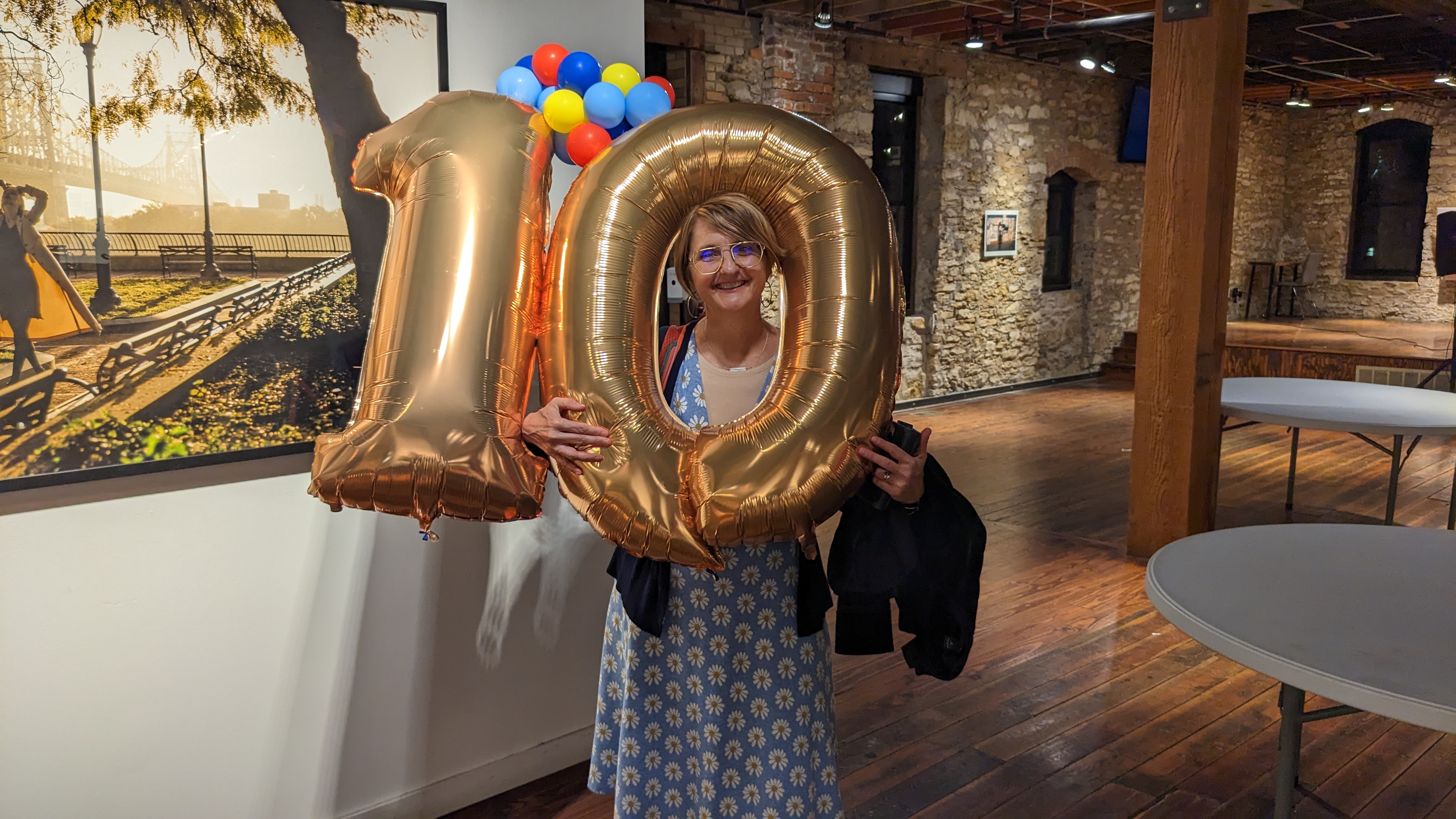 Tactical Centers
AAI has evolved to include tactical centers which exist to support the research of faculty members at KU. Tactical centers are a way for AAI to enhance and grow our capabilities and support different initiatives that intersect with our mission. Below is a brief look at the tactical centers that exist in 2023.
Directed by Barbara Kerr and Yong Zhao, CCEE is an interdisciplinary project providing research, training, consultation, and service related to the development of creative talent and entrepreneurship in individuals and organizations.
The Center for Innovation, Design, and Digital Learning (CIDDL) is serving as the National Center to Improve Faculty Capacity to Use Educational Technology in Special Education, Early Intervention, and Related Services Personnel Preparation and Leadership Personnel Preparation Programs. CIDDL's mission is to influence change that supports the appropriate use of educational technology in all Early Intervention/Early Childhood Special Education (EI/ECSE), related services, and K-12 learning environments to improve outcomes for all students, especially those with disabilities.
Led by Director David Hansen, Center for Positive Youth Development (CPYD) is a research and practice focused center investigating positive youth development and after school/out-of-school time learning. Adolescence is a critical period of development and the Positive Youth Development framework recognizes:
Youth have skills, resources, and competencies to achieve desired goals.
 
Youth are "agentic" persons—they are agents of their own development and learning.
 
Youth exercise agency to contribute to their own growth and to community change.
Led by Director Haying Long, Center for Research Methods Consultation (CRMC) provides research methodological consultation and support services for faculty, staff, and students at and outside the University of Kansas as well as researchers in industries, non-profit community organizations, and any other research and practice entities in or outside the United States. It trains students who are interested in research methodology to become ethical, responsible, and competent research methodologists.
The mission at Jayhawk Athletic Performance Laboratory(JPL) is to provide sport science research and information support to University and area sport teams, coaches and athletes.