How AAI's Center for Educational Opportunity Programs Serves First-Generation Students
---
Ngondi Kamaṱuka began his journey as a first-generation college student when he traveled from his home in Africa to Tabor College in Hillsboro, Kansas. Kamaṱuka was born and spent his early years in Namibia before fleeing to Zambia as a refugee. Where he grew up, receiving a college education was exceptionally rare.
"My parents and teachers never had a college degree, but they instilled in me a passion for teaching and good solid values like believing I could do anything I set my sights on," Kamaṱuka said.
Upon graduating from Tabor, Kamaṱuka came to the University of Kansas to get his master's and doctorate degrees in education. A large university such as KU can be daunting for first-generation students, and it can be especially difficult for immigrants unfamiliar with American college life. Kamaṱuka experienced first-hand the struggles many like him continue to face today, which is why when he saw an advertisement from TRIO Upwards Bound looking for an advisor, he jumped at the opportunity to get involved and help others like him.
"I found out that I had an affinity for the job given my experience and my similarities with the students in Upward Bound," Kamaṱuka said. "The goodness in some people allowed me come to Kansas and do what I do, so I'm here to make sure that all students have the same opportunities and reach their highest potential."
Now, Kamaṱuka serves as the director for the Achievement & Assessment Institute'sCenter for Educational Opportunity Programs, which houses TRIO Upward Bound and other similar programs dedicated to helping first-generation and low-income students. CEOP's principal mission is to provide support to students and their families in their academic, financial, social, and career goals through their 15 educational access programs. This can include supports such as scholarships, financial and academic advising, tutoring, cultural events, and childcare.
"Access without support is not an opportunity," Kamaṱuka said. "People need support to flourish, so that is what we are doing. Providing support."
CEOP serves many types of students, but first generation and low-income students are one of the main focuses of the center as they experience significant hardships compared to their peers. One of the reasons first-generation college students face challenges is because they cannot benefit from their parents' college experience, a valuable source of cultural capital.
"Unlike first-generation students, continuing-generation students have family members who have a legacy of going through college and can help them navigate the experience. First-generation students don't have that insight, so it's important that they have those supports," said Meghan Ecker-Lyster, the Director of Research, Evaluation & Dissemination Department at CEOP.
First-generation students are also often at greater risk of not completing their program because of challenges like working full time while enrolled or being caretakers for family members. Many first-generation students are also of lower socioeconomic status. According to a factsheet prepared by the Center of First-Generation Student Success, the median parental income among dependent students was $41,000 for first-generation students and $90,000 for continuing-generation students. This financial burden leads to greater dropout rates compared to their continuing-generation peers.
CEOP uses the federal definition officially developed for TRIO program acceptance which indicates first-generation students come from families where their biological parents did not complete a four-year college degree. As detailed by the US Department of Education in a stats-in-brief report entitled First-Generation Students College Access, Persistence, and Postbachelor's Outcomes, it is estimated that 33% of higher education students are the first in their family to attend college. At KU, according to a report prepared by the university's Analytics, Institutional Research, & Effectiveness department, the percentage first-generation undergraduate students in fall 2022 was 13.4%.
While all CEOP programs support first-generation students in some capacity, TRIO is particularly involved in ensuring first-generation student success. TRIO Programs are federal outreach and student services programs designed to identify and provide services for individuals from disadvantaged backgrounds. According to a Department of Education fact-sheet entitled Fast Facts Report for the Educational Opportunity Centers Program: 2018–19 in the 2018-19 school year, 74% of TRIO participants nationwide were from low-income families and were potential first-generation college students, while only 5% of participants were neither.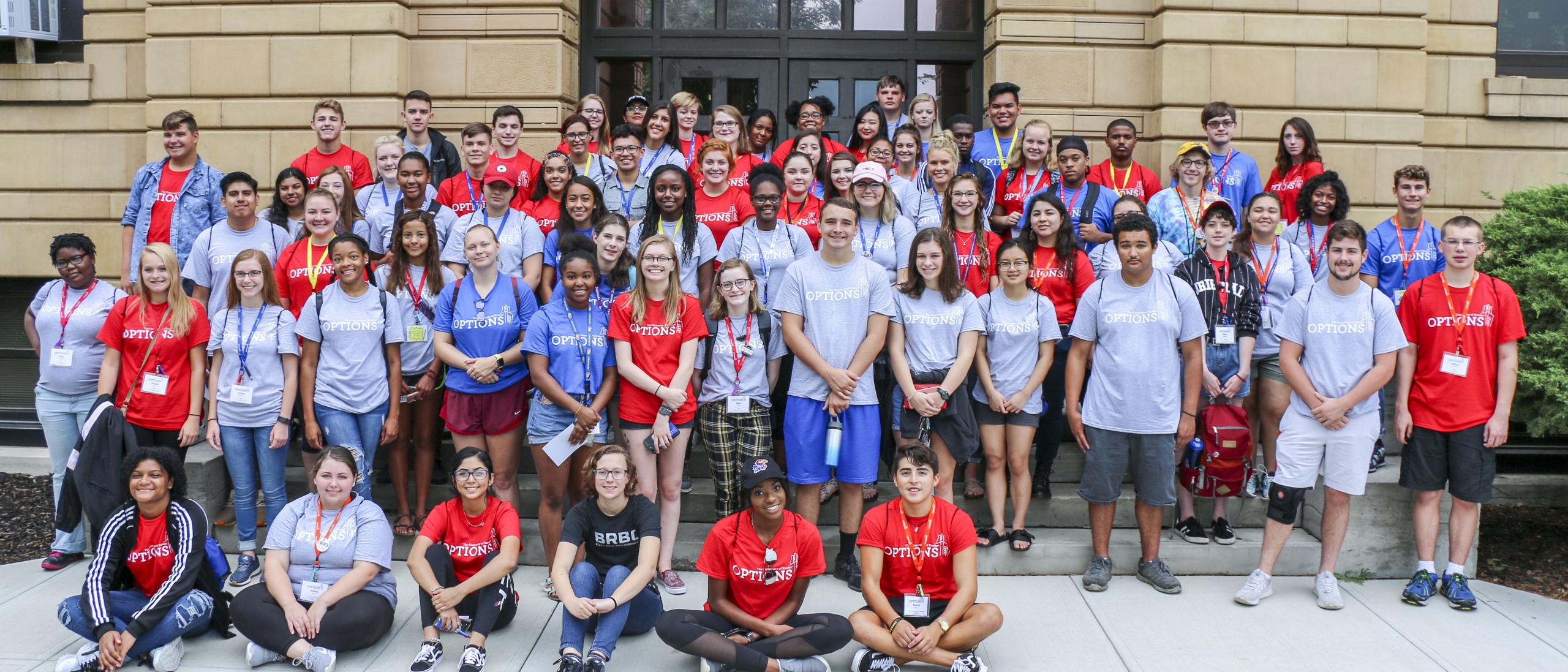 One of the seven TRIO programs housed at CEOP, TRIO SES & STEM, has been federally funded at KU since 1973, marking 2023 as their 50th year on campus. TRIO SES & STEM provides advising and support, career exploration activities, graduate school preparation, and financial literacy services to first generation, low-income, and disabled students during their time at KU. Staff members connect with students from orientation and continue that relationship throughout their entire time at KU.
"Our goal is to support the whole student in all areas of college life," said Alex Hernández-Castro, associate director for TRIO SES & STEM.  "In other programs, first-generation assistance might just be a scholarship. I think what makes us unique is that we use a holistic approach to make sure first-generation students are successful."
Because many first-generation students don't have experience accessing assistance or support, TRIO staff members reach out in many different ways, including tabling at orientation, sending email announcements, going to local high schools, and attending conferences. Letting first-generation students know that support exists when they start college is the first step in ensuring they have the tools they need to succeed.
"We serve students from before they attend their first class through graduation," said TRIO SES & STEM director Gretchen Heasty. "That continuity of care and ensuring that students have a trusted person they can turn to for help is very unique."
TRIO SES & STEM takes a broad and proactive approach to student support by offering a wide range of services and personalized solutions. Sometimes it involves simply pointing students in the right direction, but other times it can require more direct support through things like financial assistance, study abroad opportunities, and tutoring. Staff members make sure they check in multiple times a semester through one-on-one appointments and through group cultural experiences and workshops, which helps first-generation students find a sense of community.
"Many first-generation students struggle to find where they fit. We share these opportunities with them and get them connected to specific people and groups," Hernández-Castro said.
Recently, TRIO SES & STEM staff members helped a first-generation student with an enrollment hold placed on her account. The student was unaware of the hold and couldn't resolve the issue alone. Staff members worked together with the student and KU services to make sure she could enroll before the start of the semester and move into her campus housing.
 "I was able to do a team call, put together a plan, and then reach out to student account services to temporarily lift the student's enrollment hold so that she could move back into the residence hall," Hernández-Castro said. "This is a common example of how we support students and their families by helping them navigate some of these complicated processes."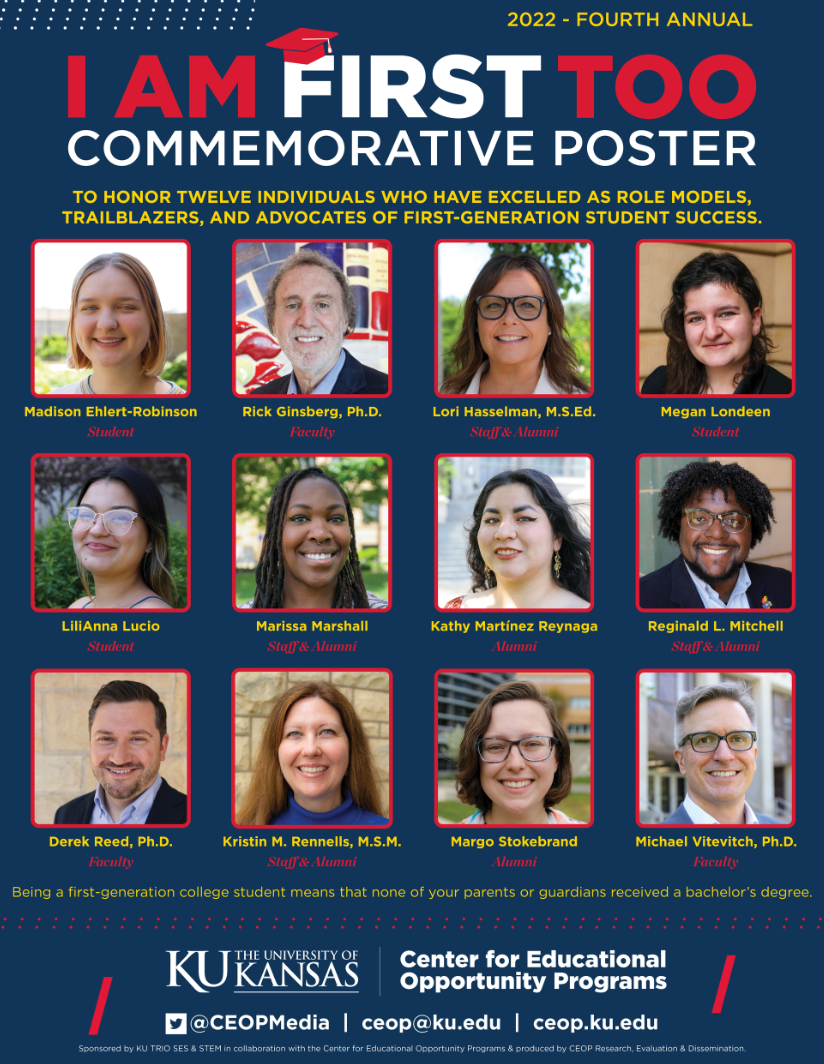 CEOP makes sure to celebrate first-generation students across all their programs, including through the "I Am First Too" annual poster, which honors members of the KU community who have excelled as advocates of first-generation student success. These individuals are featured annually on a commemorative poster published by the TRIO SES & STEM office. Kamatuka, Ecker-Lyster, and AAI's own director, Neal Kingston, have all been featured on the posters.
"It is incredibly important to have representation within CEOP and AAI of the participants that we are serving, such as first-generation students," Ecker-Lyster said. "Seeing people that come from similar backgrounds in CEOP leadership lets students know that we are there for them, that they are seen, and that we aren't unfamiliar with their journeys."
First-generation students are a large piece of the CEOP puzzle that creates a full picture of equity and opportunity for students of all backgrounds. Looking towards the future, Director Kamaṱuka believes CEOP can expand even more to ensure students become well-rounded global citizens after graduation wherever they end up.
"Our world is not just Kansas or KU. There is a bigger world out there and we must prepare our scholars to be able to navigate it."

**
 
About Achievement & Assessment Institute at KU:
The Achievement & Assessment Institute (AAI) is one of 12 designated research institutes at the University of Kansas. AAI and its centers partner with numerous agencies to improve the lives of children and adults through academics, employment, career advancement and building healthy environments, as well as to enhance the capacity of organizations that help children, adults and communities succeed.