Researcher Jade Caines Lee Joins Achievement & Assessment Institute
---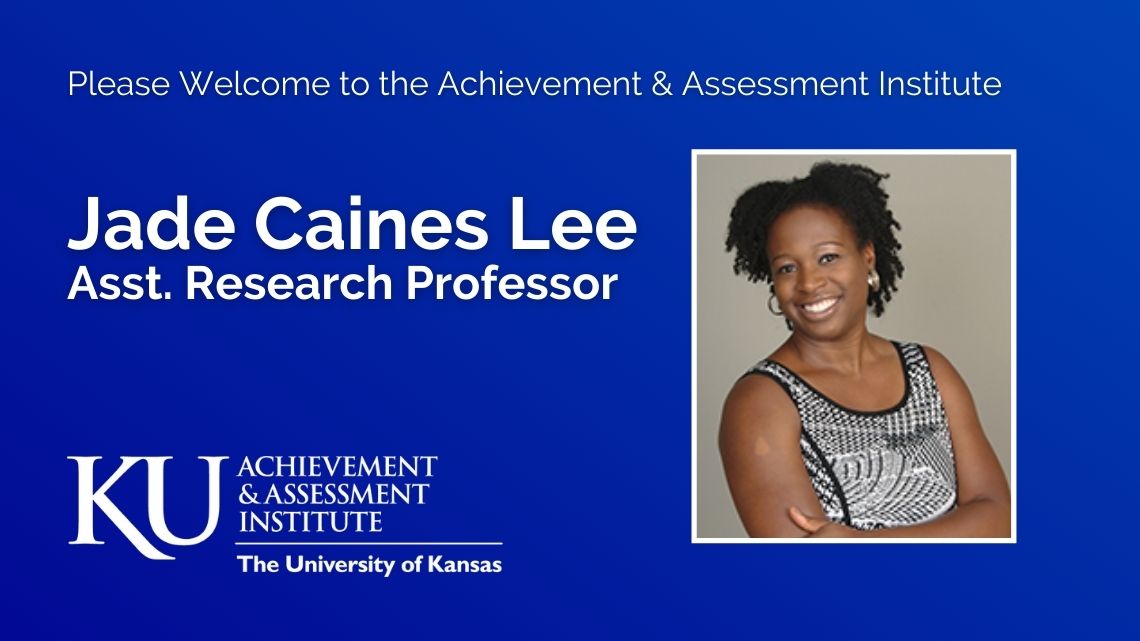 LAWRENCE — The Achievement & Assessment Institute (AAI) is excited to announce researcher and education professor Jade Caines Lee will be joining the institute as an Assistant Research Professor. Lee will be primarily positioned within AAI's Center for Montessori Research (CMR), but, due to her considerable expertise and experience in assessment, evaluation, and validity, will provide support across many centers under AAI.
"I am thrilled to be joining the Institute and carrying on my work in assessment and evaluation," Lee said. "There is enormous opportunity to shape the future of education toward more equitable outcomes."
Lee joins the Achievement & Assessment Institute after serving as an Assistant Professor at the University of New Hampshire and Clark Atlanta University. She earned her doctorate in Educational Studies (Research, Measurement, and Evaluation) from Emory University and held a post-doctoral fellowship with the Institute for Education Sciences at the University of Pennsylvania's Graduate School of Education. In addition to her academic roles, Lee has operated the JC Research Group, LLC, a consulting firm aimed at improving education by applying research, measurement, and evaluation practices to solve complex problems affecting Black, Latinx, and Indigenous people.
Although Lee will be serving in a new role within the Achievement & Assessment Institute, she previously worked with Center for Montessori Research as an Associate Researcher, after connecting with CMR Director Angela Murray through research conferences.
"I've always been impressed with Jade and also she's just a joy to work with," said Murray. "She has expertise in program evaluation and classroom assessment, but she also has equity experience and expertise that is so valuable and such an important perspective. She really brings a lot of value in many areas to projects that she works on."
For Lee, an early interest in education ("I knew I wanted to be in the field of education from a very young age"), her own educational experiences, and nearly ten years as a public-school teacher have driven her interest in testing and assessment.
"I really struggled with the fact some of my students did really well in my classes, but then when they sat down for a high stakes test, they did poorly. I wanted to find out more about this machine I felt like was keeping certain students, particularly marginalized students, away from certain opportunities and from advancing in their educational careers."
With Montessori, Lee continues her fascination with education assessment. While the Montessori model often stands in contrast to traditional educational structures, it still involves measurement and assessment. Lee describes her skillset as a testing and assessment evaluator and the Montessori model as a "natural fit."
"I feel like there's a completely different perspective in Montessori where the teacher has an evaluative measurement lens on at all times," Lee said. "Since observations are at the core of what Montessori teachers do as assessors, I'm interested in that process and learning more about teachers who work in Montessori spaces and their role as assessment evaluator, and to see if there's things that can be gleaned from their approaches."
According to AAI Director and University Distinguished Professor Neal Kingston, the addition of Lee is a huge benefit to both Center for Montessori Research and the Achievement & Assessment Institute as a whole.
"With her impressive skillset and her range of research interests, Jade greatly increases our capacity to serve our various populations."
**
About Center for Montessori Research (CMR):
Led by Center Director Angela Murray, Center for Montessori Research (CMR) collaborates with scholars throughout the Montessori community and within the fields of education and psychology to conduct high-quality research to inform educational practices, improve educational environments for all children, and explore opportunities for unique applications of Montessori principles.
Center for Montessori Research is a center within the Achievement & Assessment Institute (AAI), one of 12 designated research institutes at the University of Kansas. AAI and its centers partner with numerous agencies to improve the lives of children and adults through academics, employment, career advancement, and building healthy environments, as well as to enhance the capacity of organizations that help children, adults, and communities succeed.